– By Dr. Hay Eytan Cohen Yanarocak, Expert on modern Turkey
Armenian Foreign minister Ararat Mirzoyan plans to visit his Turkish counterpart as the feuding neighbors look to thaw decades of tense relations.
Turkish Foreign Minister Mevlüt Çavuşoğlu said on Thursday that that Armenian Prime Minister Nikol Pashinyan had responded positively to Turkey's invitation to the Antalya Diplomacy Forum set for March 11-13, Reuters reported.
Turkey and Armenia have had no diplomatic or commercial connection for over two decades.
What is behind this realist change of policy?
With the collapse of the Soviet Union and the withdrawal of Russian troops from the South Caucasus enclave of Nagorno-Karabakh, the area became the center of ethnoreligious tension. The Nagorno-Karabakh area is claimed by Azerbaijan and Armenia, which became independent states following the dissolution of the Soviet Union.
Despite recognizing the independence of Armenia in 1992, Turkey closed its border with Armenia due to its invasion of Nagorno-Karabakh in 1993. Ankara adopted a strong pro-Azeri stance in the conflict.
Indeed, the special bond between the two states – also known as – "One nation two states," is a worldview based on both states' Turkic and Muslim identity. Moreover, Turkey denied the 1915 Armenian Genocide and Armenia's historical land claims in eastern Anatolia.
Therefore, and unsurprisingly, like in 1993, during the latest war in Nagorno-Karabakh in 2020, Turkey openly supported Turkic-Muslim majority Azerbaijan. However, unlike in the past, Turkey provided military assistance to Azerbaijan by dispatching its F-16s and exporting its Bayraktar UAVs for Baku's disposal. Moreover, Turkey went even further when it provided military tactical assistance to the Azeri senior state and military officials at the Turkish Ministry of Defense in Ankara before and during the offensive.
In retrospect, the blueprints of the Turkish intervention in the war were already visible in Çavuşoğlu's January 29, 2020, statement. In his annual address, Çavuşoğlu underlined Turkey's intention of attributing a "special focus" on the Nagorno-Karabakh question among its other 2020 foreign policy priorities.1
The Impact of the 44-Day War
As a result of active Turkish support and thanks to advanced Israeli military technology, Azerbaijan managed to end 27 years of de-facto Armenian rule in most of Nagorno-Karabakh.
What stopped Azerbaijan from re-capturing the entire enclave was not the Armenian resistance but rather the Russian intervention in Armenia's favor. Moscow, which has a military base in Armenia, mediated a ceasefire and deployed nearly 2,000 peacekeepers. Thus, the Azeris were forced to agree to a ceasefire agreement that brought additional territories under Azeri control without fighting.
Furthermore, the deployment of the 35 Turkish soldiers in the city of Ağdam – in the newly captured territories of Nagorno-Karabakh – as a peacekeeping force – paved the way for Turkish penetration into the region after 102 years.
Apart from these concrete, immediate gains, the most significant achievement that substantially impacted the regional balance of power was the Armenian approval for opening the Zangezur corridor between Azerbaijan proper and Nakhchivan through its Syunik region.
In Armenian eyes, the opening of Zangezur was once considered a nightmare. However, Yerevan had to comply with the Azeri demand on Zangezur to secure the Lachin corridor that links Armenia to the Armenian-controlled Nagorno-Karabakh, i.e., "Artsakh."2 This passage will realize the "old-new" Pan-Turkic dream, which seeks to unite Turkey to Azerbaijan and other Central Turkic states via Armenia.
Realization of this vision will inevitably lessen Turkey's and Azerbaijan's dependence on Iran and Georgia. Due to its alliance and deep reliance on Russia, Armenia lost its access to Georgia after the 2008 Russo-Georgian War. Inevitably this had deepened Armenia's isolation in the region even further and made Yerevan dependent on Iran.  Furthermore, it would increase Ankara's and Baku's importance in the eyes of China for the realization of its One Belt One Road Initiative.
The Azerbaijan-Turkey axis failed to achieve some of its objectives despite these diplomatic achievements. Nevertheless, thanks to the Russian intervention, the Armenians managed to keep Stepanakert3 (Xankəndi in Azeri), Martuni, Lachin, Askeran, and Martakert regions.
Though the continuation of the Armenian presence under Russian protection was maintained in Nagorno-Karabakh, Turkey, in a very pragmatic manner, ignored Armenian control in the cantons mentioned above and instead chose to highlight the gains of the war, such as the opening of the Zangezur corridor and the Azeri takeover of the city of Shusha (Shushi in Armenian).
Thus, by declaring the end of the occupation and disseminating inaccurate information to the Turkish public, the Erdoğan administration eliminated the potential opposition and criticism against a possible normalization with Armenia. Such normalization became a must for Turkey to use the Zangezur corridor. Ironically, the corridor had increased Armenia's strategic importance from Turkey's perspective and became leverage in Yerevan's hands.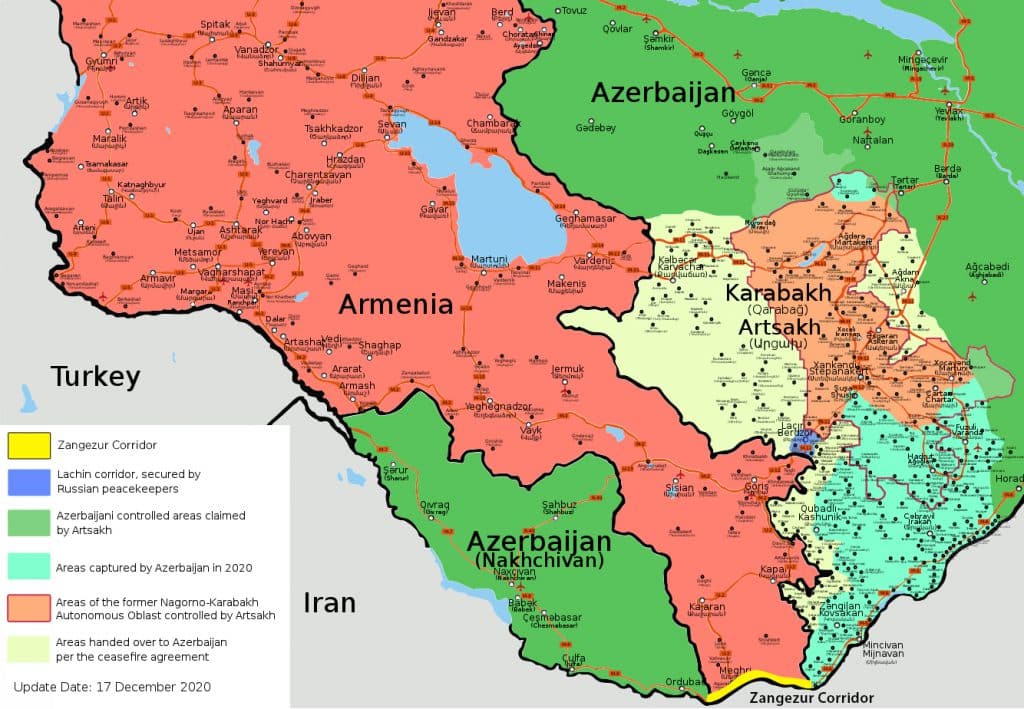 In Armenian eyes, the obligation to open the Zangezur corridor combined with Turkey's acquiescence of the Armenian presence in Nagorno-Karabakh and US official recognition of the Armenian genocide eliminated all obstacles to normalization with Turkey. Thus, following the ceasefire and his victory in the 2021 general elections, Pashinyan saw no reason to delay normalization with Turkey.
From Pashinyan's perspective, such an act would re-open the closed Turkish-Armenian land border. It would also open Turkish airspace to Armenian and foreign air traffic from or to Armenia, thus decreasing Yerevan's dependence on Tehran and Tbilisi.
Moreover, normalization with Turkey would boost the struggling Armenian economy and serve Armenian national security. Removal of Turkey as an immediate national security threat would decrease Armenia's military and economic dependence on Moscow. This development represents a realist Armenian foreign policy shift.
The Road to Normalization
In December, Çavuşoğlu appointed former Turkish ambassador to the US, Serdar Kılıç as Ankara's emissary in the direct talks with Armenia, which reciprocated by nominating Deputy Chairman of the Armenian parliament, Ruben Rubinyan, as its representative.
However, the direct bilateral talks held in Moscow came after The Minks Group4 brokered the 2009 Zurich Protocols that failed to clarify the normalization of the two states.
At the time, the Nagorno-Karabakh conflict, Armenia's land claims in eastern Anatolia, and the international recognition of the Armenian genocide constituted the most significant obstacles. Thus, the protocols were never ratified and, in 2018, declared void.
By starting direct talks under the auspices of Russia, Ankara and Moscow effectively nullified the role of the Minsk Group. Furthermore, they removed the mediation role of France and the US.
By hosting the direct talks on January 14 in Moscow upon Yerevan's request5, the Kremlin delivered a clear message that only through its consent and control would a genuine normalization be reached.
Turkey realized Russia's vital role and urged for an inclusive regional dialogue mechanism called 3+3 formed by Armenia, Russia, Iran, Georgia, Azerbaijan, and Turkey. By creating such a forum, Turkey sought to minimize opposition to any agreement reached by having all regional countries participate.
However, given Russia's occupation of Georgian territory, it seems that the forum will be stillborn.6
On the other hand, the EU has seen itself outmaneuvered and become a bystander to the Russo-Turco cooperation, which bypassed the Minsk group. France, in particular, seeks to play a role through the European Council. Under its Eastern Partnership summit held on December 15, 2021, the EU sought to mediate by hosting a one-on-one meeting between the Azeri and Armenian leaders.7 Both Pashinyan and Azeri President İlham Aliyev collaborated with the EU since the leaders sought to diminish Russian influence in the region.
Possible Strategic Outcomes
Before the first direct normalization summit in Moscow, both Armenia and Turkey began to make bilateral gestures to pave the way for future collaboration. On December 31, 2021, Armenia and Turkey gave the green light to the bilateral flights between Istanbul and Yerevan. The next day, Armenia took a further step and abolished its embargo on Turkish goods imposed a year earlier.8
Despite the jovial atmosphere before the first meeting, the Turkish side remained cautious. To minimize potential opposition at home, Çavuşoğlu underlined that Turkey still did not nominate an ambassador but instead appointed an emissary. With this act, Çavuşoğlu emphasized that the normalization process would be gradually conducted under Baku's full knowledge and approval.9
Essentially, Turkey implemented a carrot and stick diplomatic approach. Accordingly, Ankara expects to see progress and for Yerevan to renounce its historical claims in eastern Anatolia.
Moreover, Ankara may also expect Armenia to ignore Turkey's denial of the Armenian genocide and not make it an obstacle to normalizing relations. Turkey would prefer forming a joint commission of historians to find a satisfactory compromise, which is unlikely.
In this regard, the Armenian diaspora may give a hard time to Pashinyan. But it should also be noted that US President Joe Biden's recognition of the Armenian genocide last year lifted a massive burden from Pashinyan's shoulders. Thus, it seems that in Pashinyan's eyes, proceeding with the normalization despite Turkey's denial will no longer create an obstacle.
On the contrary, Armenia's move would be understood as realpolitik, separated from the genocide issue. In an ideal case for Armenia, Ankara would designate its Black Sea port city of Trabzon for handling imports and exports. Such a venture would be a win-win situation for both. Eventually, such measures could even pave the way for the inclusion of Armenia in future regional energy projects.10
However, despite this optimistic vision, the Armenian opposition has already voiced its concerns regarding normalization. They tagged the whole process as "Turkey's latest maneuver exploiting Armenia's weakness to realize its Pan-Turkic vision."11
Apart from the Armenian opposition, its diaspora is considered another serious adversary for normalization with Turkey. Turkish President spokesperson İbrahim Kalın's latest remarks of welcoming the normalization process while highlighting the Armenian diaspora as the prominent foe of the entire process reveals how this diaspora could be an obstacle.
For its base at home, Ankara would choose to differentiate between the Armenian state and the diaspora. Ankara would tag the diaspora as the "bad guys" while at the same time Yerevan would be portrayed to the Turkish public as the "good guys." In the case of political friction or deadlock, Ankara already revealed its intention on which party it would blame.12
Ironically, the Armenian diaspora pressured Biden to persuade his Turkish counterpart during the October 2021 G-20 Summit in Rome to open the Turkish-Armenian land border. For its part, Ankara chose to collaborate to mend ties with the US.
Further, the importance of Turkey's normalization with Armenia should be noted in the shadow of the Ukrainian standoff with Russia. By putting itself in the good graces of the West, it could help counter Moscow's influence in Armenia.
Moreover, Ankara is also cognizant that normalization will decrease Iran's influence in the region. As a result, Azerbaijan, Armenia, and Turkey would become less dependent on Tehran. Given the adverse effects on Russia and Iran, Ankara seeks to portray this normalization process as a significant gesture for the Biden administration.
Conclusion
The 44-day war ended the Azeri-Turkish inferiority complex that stemmed from the defeat in the 1993 War. This shift in mindset and the military victory that dominated the public course in Azerbaijan and Turkey provided the necessary room for Turkish decision-makers to give the green light to normalization with Armenia.
Ironically, the American recognition of the Armenian genocide removed an obstacle for Armenia and Turkey to move forward. Ankara and Yerevan had previously refrained from realizing the 2009 Zurich normalization protocols not to damage their positions on the recognition of the genocide.
Therefore, the remaining complication on the table was Armenia's historical claims on eastern Anatolia. Suppose Yerevan would take this historic step and drop this claim. This could accelerate the normalization process and provide a landmark opportunity to trigger regional prosperity and partnership, which Yerevan gravely desires. Under such a scenario, Azerbaijan would also benefit from opening the Zangezur corridor.
Given Azerbaijan's stronger position, Iran, which hosts a significant Azeri population, would be considered the big loser of this process. It would become harder for Tehran to restrain the Azeri separatism in its north-western region. Moreover, with the fulfillment of normalization, Iran would lose its indispensability and ability to leverage its position relating to Azeri-Armenian tensions.
As for the superpowers, Russia preserves its diminishing influence in the region by hosting the normalization summit between Turkey and Armenia. The US and the EU most likely will continue acting as secondary actors behind the scenes to undermine Russian interests.
Resolving ethnic conflicts dictates adopting a realist approach. The realization of Turkish-Armenian normalization is a historic opportunity that would serve Turkish and Armenian interests as well as Western and Israeli interests that seek to diminish Iranian and Russian influence.
NOTES:
---
[1]"Dışişleri Bakanı Çavuşoğlu: Türkiye artık birçok oyunu sahada bozuyor", AA, January 29, 2020, https://www.aa.com.tr/tr/politika/disisleri-bakani-cavusoglu-turkiye-artik-bircok-oyunu-sahada-bozuyor/1718328 [Accessed: January 9, 2022]
[2] Fehim Taştekin, "Many hurdles remain for Turkey-Armenia reconciliation," Al-Monitor, December 17, 2021, https://www.al-monitor.com/originals/2021/12/will-armenia-turkey-finally-break-jinx [Accessed: January 6, 2022]
[3] Stepanakert functions as the capital city of the Armenian Nagorno-Karabakh Republic – which is also known as "Artsakh"
[4] The Minsk Group activities have become known as the Minsk Process, spearheaded by the OSCE to find a peaceful solution to the Nagorno-Karabakh conflict. It is co-chaired by France, the Russian Federation, and the United States.
[5] "Rusya araya girdi: Türkiye ile Ermenistan yakınlaşıyor çünkü…", Sözcü, December 18, 2021,  https://www.sozcu.com.tr/2021/dunya/rusya-araya-girdi-turkiye-ile-ermenistan-yakinlasiyor-cunku-6834278/ [Accessed: January 6, 2022]
[6] "Türkiye-Ermenistan ilişkileri: Normalleşme süreci nasıl gelişecek, zorluklar neler?", BBC Türkçe, December 14, 2021, https://www.bbc.com/turkce/haberler-turkiye-59651103 [Accessed: January 6, 2022]
[7] "Eastern Partnership Summit – Joint Declaration, European Council", December 15, 2021,  https://ec.europa.eu/neighbourhood-enlargement/news/eastern-partnership-summit-joint-declaration-2021-12-15_en [Accessed: January 6, 2022]
[8] "Ermenistan'dan İstanbul uçuşlarına onay çıktı: Türkiye de kabul ederse takvim oluşturulacak", Yeni Şafak, December 31, 2021,  https://www.yenisafak.com/dunya/ermenistandan-istanbul-ucuslarina-onay-cikti-turkiye-de-kabul-ederse-takvim-olusturulacak-3728295 [Accessed: January 6, 2022]
[9]"Ermenistan Türkiye ile normalleşme için temsilci atıyor", DW, December 14, 2021, https://www.dw.com/tr/ermenistan-t%C3%BCrkiye-ile-normalle%C5%9Fme-i%C3%A7in-temsilci-at%C4%B1yor/a-60116338 [Accessed: January 6, 2022]
[10] "Ermenistan-Türkiye İlişkilerinde Normalleşmeye Azerbaycan Nasıl Bakıyor? – TGRT Haber", YouTube,December31,2021, https://www.youtube.com/watch?v=4qhKCXMOaA8&ab_channel=TGRTHaberTV [Accessed: January 6, 2022]
[11]"Tarih Komisyonu tekrar gündeme gelebilir", Agos, January 3, 2022, http://www.agos.com.tr/tr/yazi/26610/tarih-komisyonu-tekrar-gundeme-gelebilir [Accessed: January 6, 2022]
[12]"Armenia-Turkey Normalization will Destroy U.S. Armenian Community, Says Erdogan's Spokesman", Asbarez, December 30, 2021,  https://asbarez.com/armenia-turkey-normalization-will-destroy-u-s-armenian-community-says-erdogans-spokesman/ [Accessed: January 6, 2022]
---
JISS Policy Papers are published through the generosity of the Greg Rosshandler Family.